Spain banks to minimise hit for small investors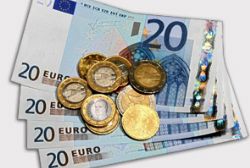 Spanish banks in line for European aid are looking at ways to minimise losses for small savers who will be forced to take a hit on certain bonds and shares they bought in the ailing lenders, under conditions enforced by Brussels.
Although no overall figure for losses is yet clear due to uncertainties about the euro zone bailout of banks stricken by a housing bust and recession, retail investors are reckoned to hold some €30 billion in subordinated debt and stock in Spain's small and medium-sized banks.
Only a portion of that would be facing losses as banks able to comply with new capital requirements on their own or to pay back public money by June 2013 would escape the rule.
This means investors at Santander, BBVA, Caixabank and Popular as well as other smaller sound banks would be safe as these lenders have already a core tier one capital ratio above the 9% required by European authorities.
Furthermore, four nationalised banks - Bankia, NovaCaixaGalicia, CatalunyaCaixa and Banco de Valencia - are discussing formulas with the European Commission to minimise the cost to customers, many of them elderly, who were often sold these complex financial instruments as savings products.
"We're currently negotiating the amount of the hit. The Commission wants it rather high but we're confident we can obtain something lower," said a source at one of those banks.
"Several options are on the table. Convert the preference shares into bonds, into deposits, or into other instruments."
Other banking sources said such options were being actively looked at and implemented with individual clients in some cases.
Once the principle of a haircut has been agreed with Brussels, the government has the possibility to pay compensation for the losses.
Last month, EU Competition Commissioner Joaquin Almunia said conditions on the aid for the banks forbade the use of European funds to compensate bondholders, so holders of preferential shares should accept losses at market value. But he stressed that national or local governments had the right to do so. Although using scarce public money to compensate investors might be unpopular, the first banking source said the option was still on on the table.
"It's one thing to compensate for a loss and break competition rules, but it's quite another thing for the state to make a sovereign political choice," the banker said.
'SHAMEFULLY DUPED'
Spain will require banks receiving state aid to enforce losses on hybrid capital and junior debt holders, according to a European Union document obtained by Reuters. It will modify existing legislation by end-August to allow these losses to be enforced, the draft Memorandum of Understanding said.
Spanish banks have €65 billion of subordinated debt outstanding, or €47 billion excluding the country's 2 healthy big banks Banco Santander and BBVA, according to Barclays.
Of this, retail investors hold 62% in instruments such as preferential shares that can pay a dividend, a much higher proportion than in countries like Ireland where junior bondholders were also forced to share losses in a bank bailout.
The selling of preferential shares to retail investors, many of them elderly bank customers with little financial knowledge, has outraged Spaniards in a long-running scandal pre-dating the €100 billion rescue package.
Bankia, the nationalised bank likely to receive the largest share of European funds when they materialise later this year, has €3.1 billion in preferential shares outstanding.
The lender, which has asked for €19 billion in rescue money, is in talks with the EU, the Bank of Spain and the stock market regulator to find a way to compensate investors, a spokesman for the bank said.
Listed banks in the past have converted preferential shares into equity while non-listed savings banks have opted to swap them for term deposits. Barclays Capital suggested in a note on Wednesday that retail debt holders could be compensated by a national fund, but other experts said this would be difficult.
SIGNED BY A FINGERPRINT
PM Mariano Rajoy announced a package of new taxes and spending cuts on Wednesday aiming to slash €65 billion more from the budget deficit by 2014.
In this climate, public compensation for investors will be politically unsavoury.
Bank clients stung by losses on preferential shares harangued the new chief executive of rescued lender Bankia at a shareholders' meeting last month.
"My wife and I had some money in a deposit and (the bank) took it out of the fixed deposit and put it in preferential shares, shamefully duping me with lies," said 85-year-old retiree Miguel Garcia Tribaldo.
New Bankia chief Jose Ignacio Goirigolzarri warned at the meeting that his options were limited in finding a solution for investors.
The market price of these instruments varies from around 40% of face value to practically zero in some extreme cases, experts said. The central bank will discourage any bank in receipt of state aid from compensating junior bondholders with more than 10% of market price, the EU document said.
NovaGalicia, a savings bank in northeastern Spain in line for state aid, has €960 million of preferential shares held by retail clients, while CatalunyaCaixa has €480 million.
Banco Valencia, the fourth bank almost certain to receive European funds, has €100 million in subordinated debt held by retail investors but no preferential shares held by this kind of customer, a spokeswoman for the bank said.
NovaGalicia is subject to a court probe into alleged mis-selling of these instruments to retail clients. El Pais daily cited a purchase form for €6,000 worth of shares signed by an 86-year-old woman's fingerprint.