Finland may get Spain bank shares as loan guarantee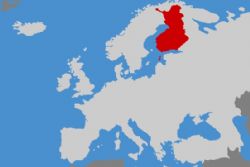 Finland is in talks to get shares in Spanish banks in exchange for the Nordic country's contribution to a bailout agreed last month, Finance Minister Jutta Urpilainen said.
"We've discussed the option of bank shares," Urpilainen said in an interview on state-owned broadcaster YLE TV1 yesterday. "There are several different alternatives and it's still impossible to say what the concrete model for collateral will be."
Finland wants the collateral in exchange for loans to Spain paid from Europe's temporary rescue fund to shield its taxpayers from losses. Urpilainen only has a few weeks in which to strike a deal as the first installment of Spain's rescue is due to be paid this month. Euro-area finance ministers this week decided Spain will get the first 30 billion euros in July.
"The collateral talks with Spain are ongoing and the timetable is challenging," Urpilainen said.
Other euro members "have no alternative but to accept" Finland's collateral demand, she said. "Finland participates only on the condition that it gets collateral."