Gov't eager to demonstrate cost savings at Castellon Airport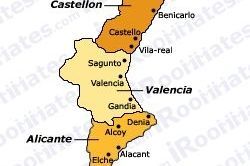 Whilst technically not being a state owned facility, the majority shareholder in Castellon Airport is the Generalitat Valenciana, and as such has come under increasing pressure to reduce costs and overheads - especially given that the airport is not yet operational and therefore generating any revenue.
These 'cost savings' have been made through the renegotiation of a number of contracts awarded by the concession holder of the airport, Aerocas.
Despite refusing to disclose the full extent of debts and costs incurred by the airport last week, the Generalitat is keen to demonstrate that austerity is being applied.
Such contracts include the security of the perimeter of the airfield, the provision of falconry to keep birds and other pests away from the site, and the maintenance of lifts and elevators.
In the case of airport security, Aerocas has managed to renegotiate the contract, originally placed at 1.1 million euros per year, making a 300'000 Euro saving - or 27%.
A similar percentage has also been saved on the Falconry contract, which has recently been renegotaited to 75'000 euros per year.
Aerocas have also reported that the contract for the maintenance of the 9 elevators on site has been revised downwards from 2'000 Euros per month to 700 euros.
Tumbit wonders why - when cost savings of 27% have been applied so easily - nobody at the Generalitat questioned whether these contracts were excessively priced originally. Perhaps a 'brown envelope' or two had to be factored into the original contract costings ?