Novagalicia Bank seeks €6 billion aid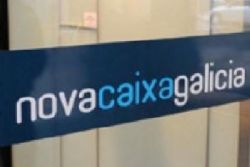 Novagalicia Bank has asked for €6 billion to repair its damaged balance sheet as Spain's weaker banks join the queue for the EU's rescue package.
The unlisted regional bank, taken over by the state last year when it became clear it could not cope with huge loans to a collapsed real estate sector, is likely to be among the first to receive EU funds.
The bank, formed from a merger of savings banks in the north-western region of Galicia, has asked for more than it needs for government-enforced writedowns on property assets, hoping to cover losses on other areas of its loan book.
"We have to make provisions of about 4.2 billion euros, but we have drawn up a more wide-ranging recapitalisation plan," a bank spokesman said on Thursday.
Four nationalised banks : Bankia; CatalunyaCaixa; Novagalicia and Banco de Valencia are expected to receive the bulk of European aid, though the amount needed for each has yet to be finalised, financial and government sources have said.
These banks will receive a liquidity lifeline of €30 billion at the end of July to cover immediate needs and then a capital injection of about €45 billion in mid-November, according to a document published by the EU's temporary EFSF bailout fund.
Around €20 billion of this second tranche will come from the liquidity lifeline, keeping the remaining €10 billion from that lifeline as a long-term buffer.
The €45-billion injection is expected to cover around 60% of the total recapitalisation needs of the Spanish banking sector.
A third tranche would follow in late December and would supply funds for banks identified with a capital shortfall and unable to cover them without resorting to state aid.
A fourth tranche would follow by the end of June 2013, covering capital needs for banks which have not managed to raise equity in the interim. The 2clast disbursements would be for up to €15 billion each, the document said.
Around an additional €25 billion will be earmarked to cover the rotten real estate assets of rescued banks hived off into a separate holding company.
The exact refinancing needs for each bank will not be known until the end of September, after the completion of stress tests.