Tumbit's Mr & Mrs Grumpy Parents Again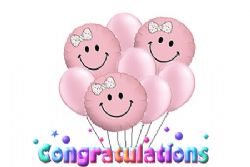 Despite a few hurdles along the way, Tumbit's Mr & Mrs Grumpy gave birth to a healthy baby girl in the early hours of this morning, bringing a much anticipated sister for their daughter Aurelia.
The young lass arrived into the world at 2am this morning without any complications, however deciding upon a name had been a crucial topic of debate for some weeks - " 39 Weeks pregnant : Still no name "
The Grumpy family have settled on naming her Lucia, which is a Latin name with a meaning of 'Light' in Spanish.
Both Mum and baby are doing well as is Mr Grumpy who will hopefully keep us all up to date on progress over the coming weeks.
Everyone at Tumbit would like to congratulate the Grumpies on their new family addition and hope all our visitors will join us in wishing them good health and best wishes for the future!!