First 'plane' lands at Castellon Airport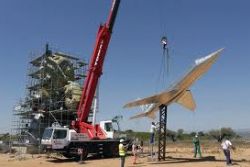 Many of Spain's national newspapers earlier today ran with the sensationalistic and eye-catching headline "Arrival of first airplane at Castellon Airport".
However, sadly this is not the case - or at least not in the way that the vast majority of would-be passengers would hope.
The reality is that the news referred to the delivery of a component of the infamous sculpture which stands in the middle of the roundabout on the approach to Castellon Airport.
The 25 meter high Bronze statue of Carlos Fabra - the President of Aerocas and former PP President of the Province of Castellon - weighs 20 tonnes and came at the cost of 300'000 Euros.