Which Airlines Will Fly to Corvera Airport ? : 1 Year On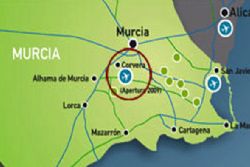 It is almost 1 year ago to the day since Tumbit ran the news story " Which Airlines Will Fly Into Corvera Airport ? " where, based on the original promise of the facility being open by late Spring of 2012 (in time for the summer season), we speculated on the positive aspects of a new airport opening in the region, and the things which Corvera had to offer as a suitable location.
However, after reading the same article over again this morning, we have decided that we ought to re-visit the same points that we made originally in order to highlight just how much some things have changed - and how little other things have changed :
The Paramount Theme Park : Despite a 2 months delay in the actual purchase of the land required to complete the project - and being unable to purchase around 33% of the footprint originally required - Paramount are sticking firmly to their original forecast of 5 million visitors per year, and that they will be open for business late Spring 2015.
Optimistic, Naive or Reaslistic ?
Infrastructure : Well, lets just say that the promised AVE high speed train link to the airport won't be happening afterall. However, it seems that they have allowed for extra bus and coach connections.
Not quite the same though....
AENA : Since July of 2011 the change of Government together with the worsening economic situation has changed the focus on the privatisation of AENA - Will it ever happen, and if so when ?. This, together with the fact that the airport would actually in effect be a Private airport operated by a public body which "could" have certain elements privatised, suggests an administrative nightmare.
Oh, and did we mention that the compensation agreement between AENA, Corvera and San Javier airports has not been officially finalised as yet ?
Ryanair : Their relationship with AENNA - especially at neighbouring Alicante Airport - might suggest to some that they have an eye on their future at Corvera, but who would like to speculate or second-guess what Michael O'Leary's intentions are here ?
One other notable issue that only recently came to light is that of the fact the reclassification of military airspace between San Javier and Corvera airports is becoming problematic. Apparently, NATO are insisting that the strategic importance of San Javier as a military airport makes this difficult and this needs to be worked through with the Ministries of Development and Defence before any permissions can be granted. (However, it could possibly be argued that this should really have been item 1 on the Agenda when Aeromur decided upon the final location of the airport ?)
However, other questions also remain unanswered. Various representatives of the regional government have bragged to the Press that the airport will be operational by October (0f 2012, in case anybody was wondering), although we still don't know whether this will be a commercial passenger, Military, Freight or Test flight.
We are also still waiting to know the answer to the original question : Which Airlines Will fly into Corvera Airport ?