Spain's protest movement grows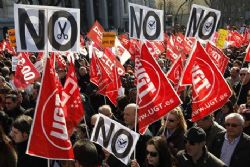 With parliament, besieged for the last week, voting on a package of €65 billion of spending cuts and tax hikes, civil servants stopped traffic and invaded ministries ahead of marches called by trade unions in more than 80 cities on Thursday evening.
The sight of protesters on Spain's streets is nothing new. Young "Indignados" (Indignants) protested in their thousands against mass unemployment last year.
But since PM Mariano Rajoy announced the austerity steps last week there have been daily demonstrations drawing groups that have previously stayed away.
On Thursday, policemen and members of the Civil Guard took the unusual step of joining the protests.
Civil servants, whose pay was cut by between 3.5 - 7% when their Christmas bonus was canceled, have used their daily coffee break this week to protest outside the ruling People's Party (PP) headquarters in Madrid, often shouting "Hands up! This is a stick-up!"
"We have to make some noise, because they're making fun of us and of all working people," said Iria, 34, an auditor in the treasury, during a rally outside the PP building on Wednesday.
Protesters blew whistles and sang "We've had it up to here" to the tune of "Guantanamera" while stony-faced policemen guarded the doors to the building.
"We are two and a half million votes. I hope they are thinking about that," said Jose Luis Martinez, 52, who works at the interior ministry.[>
LITTLE PREPARATION, PLENTY OF HAVOC
While anti-government protests are not unusual under right-wing governments in Spain because the PP is seen to side with employers rather than trade unions, public workers had accepted several cuts or freezes in they salary over the last three years with a sense of resignation.
But the latest round of belt-tightening has spurred widespread anger.
"It has gone beyond an ideological issue... and it's moved beyond the traditional groups that demonstrate. We have seen even the military threatening a demonstration," said Ramon Pacheco, a lecturer in Spanish politics at Kings College London.
Rajoy announced the cuts as thousands of miners and supporters, some of whom had marched hundreds of kms from northern Spain to protest a reduction in coal subsidies, staged a rally that ended with police firing rubber bullets and making arrests.
Civil servants poured out of their offices to block Madrid's main arteries following Rajoy's announcement and have protested without fail every day since, organizing action through emails and by co-ordinating at work without any clear leaders.
"You don't need much to prepare but they are still causing havoc. That has the government a little bit nervous," said Sandra Suarez, a political scientist at Temple University in Philadelphia. "The protests could force a (financial) rescue because Rajoy can't keep cutting."
On Friday, the Indignados turned out in support of the civil servants, a sign that disparate groups with different complaints are uniting in a common cause. That protest ended with scuffles between police and protesters in Madrid's Puerta del Sol, the center of last year's protest movement.
RISKS FOR THE GOVERNMENT
Messages on social networks like Twitter and mobile messaging service WhatsApp call for spontaneous demonstrations that attract hundreds of people in various cities every day.
One message doing the rounds urges citizens to gather in the main squares of their cities on July 27 and says: "The Spanish people are sick of all politicians. Let's make history!"
"With new technologies you don't have time to think. You don't deliberate," said Suarez, who published a paper on the use of mobile phones to organize protests following attacks on Madrid's public transport network in 2004 that killed 191.
The cabinet was expected to approve on Thursday a parliamentary motion categorizing "urban violence" as a specific crime, which could empower police to detain suspects preventively before being charged with the offence.
The government is also looking at ways to curb the organization of protests that disrupt public order.
The spontaneous protests now taking place recall the 2004 demonstrations, though the profile of the protesters has changed to extend from young people to middle-aged workers.
Public anger against the government, which wrongly blamed Basque separatist group ETA for the bombings in 2004, led to a surprise election defeat for the PP just 3 days later.
This time the party has more than 3 years of its term left, but analysts warn that if the crisis continues to escalate, Rajoy face a sure defeat.
"It's difficult to make predictions, but it's more than likely that this government term could come to an end sooner than expected," said Fermin Bouza, a sociologist at Madrid's Complutense University.