Spain's Bankinter gives taste of property cleanup pain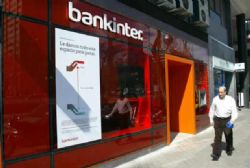 One of Spain's healthier lenders, Bankinter, posted a sharp drop in profit, setting the tone for other banks' earnings that are also expected to suffer as a result of a deep clean of soured property deals and rising bad loans.
Although medium-sized Bankinter is less exposed to the collapsed property market than other Spanish lenders, its provisions against possible losses on real estate assets were €275.2 million, the bank said on Thursday, sending first-half profit below forecasts.
The government has demanded banks beef up these provisions as Spain tries to contain the damage from a burst real estate bubble in 2008 and an ensuing recession, although it has also had to ask for up to €100 million in European aid.
Euro zone finance ministers will on Friday sign off the conditions attached to the release of bailout funds.
Bankinter, which has a modest €60 billion of total assets, eked out a €22.6 million first-half profit, down 77% from a year ago and below the €51.3 million forecast by analysts. It used up some generic provisions to absorb the property hit, so the impact on profits came to €124.3 million after taxes.
"They (the results) looked pretty positive...especially on the net interest margin front given the difficult environment in the markets," said Nuria Alvarez, analyst at Madrid-based brokerage Renta 4.
The net interest margin - the difference between what the bank makes in loans and pays out in deposits - rose 34.6%, though the bank said it could fall later in the year.
Other Spanish banks, many of whom have far greater chunks of repossessed property and bad loans to developers on their books, may find it harder to comply with the provisioning requirements in the first half, or not be as keen to do it all now.
Some banks could post losses, analysts at Banesto said in a note.
CaixaBank, Popular and Banesto, have already covered part or all of their provisioning needs by retaining profits in Q1 of the year.
But heavyweights Santander and BBVA for instance, due to report results in the coming weeks, decided in the first quarter to wait and act later in the year.
DEPOSIT WOES
Bankinter said it wanted to draw a line under its real estate problems.
"It will give us a competitive advantage," Chief Executive Maria Dolores Dancausa told reporters.
The bank has performed better than many, and will not need to ask for public funds, Dancausa said, adding that stress tests were likely to show it needs no extra capital.
Its core capital ratio exceeded 9% under European Banking Authority Standards, the minimum level all Spanish banks will now have to hit, even before factoring in a share issue deal for preferential shareholders.
Dancausa added that Bankinter was expecting to post a full- year net profit of €130 million, down from €181 million last year.
Bankinter has been hurt by the recession and the turmoil around Spain's banking bailout. The bank lost about €600 million of deposits in Q2, although it has now stemmed the outflow, Finance Director Gloria Ortiz said.
Bad loans at Bankinter also continued to rise, although at 3.91% they are well below the ratio across the sector of 8.95%.
Their ratio of troubled assets is also markedly lower than comparable banks such as Popular, Banesto and Banco Sabadell, coming in at 5.2% versus an average 13.7%.
Shares in Bankinter were down 1% on the Madrid stock exchange at 1433 GMT, compared with a 0.7% rise in European bank stocks.