Valencia Seeks Bailout From Spanish Government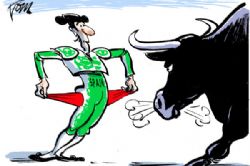 Just as Eurozone leaders unanimously vote in favour of bailing out Spain's ailing banks with a massive cash injection of up to €100 billion, Valencia requests financial assistance from central government effectively making it the first region in Spain to request a bailout.
Any hopes of the European bailout bringing calm to the markets and restore confidence in the peninsula were immediately dashed reigniting fears that Spain would inevitably require a full blown bailout.
The Valencia region is seeking help to refinance €2.5 billion of debt set to mature by the end of the year. As with all regions in Spain, Valencia has been shut out of bond markets for more than a year following credit rating downgrades and the risk it cannot pay its bills.
It's not the first time the Valencia region has been at the centre of a scandal. For many years the region has brought shame and bad press to the Spanish property market with its controversial Land Grab laws, effectively seizing property and land bought by unsuspecting foreigners then selling the assets on for profit to developers and construction companies. Critics believe that corruption and discriminative legislation in the region was a major catalyst which destroyed the Spanish property market.
In addition, the region has had numerous mayors and political figures convicted of numerous crimes including fraud and theft. Most recently, the previous president of the Valencia region, Francisco Camps was forced to resign after being indicted in a fraud case involving misappropriation of public funds and service contracts.
Over the last decade, the Valencia region has spent recklessly on ambitious useless projects including airports, museums and other elaborate structures, making several people, including politicians, extremely wealthy whilst leaving the public to pick up the tab.
Although Valencia is the first to request a bailout from central government, experts believe they will certainly not be the last, forcing Madrid to brace itself for further financial turmoil from other struggling regions.
* Image courtesy of Tom Janssen