Eurogroup approves Spanish banking sector bailout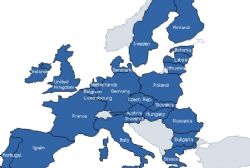 Euro zone finance ministers approved the terms of a loan of up to €100 billion for Spain to recapitalise its banks on Friday, but the exact size of the support will only be determined in September.
In a conference call, ministers signed off on a detailed memorandum of understanding with Spain spelling out the terms of the aid, which will be fully disbursed by the end of 2013.
But before Spain can decide exactly how much money it needs, it must see the results of in-depth audits of its banking sector, which is riddled with bad property loans.
"Ministers unanimously agreed today to grant financial assistance for the recapitalisation of financial institutions in response to the Spanish authorities' request," the Eurogroup of euro zone finance ministers said in a statement.
"The specific amount will be determined based on a thorough bottom-up assessment of capital needs for individual banks, which has been launched and is expected to be finalised in September."
The bank rescue, and fresh austerity measures and looser fiscal targets agreed with Madrid, are aimed at avoiding a full sovereign bailout that the euro zone could barely afford.
In return for the loan, Spain will have to restructure its banking sector and its assets, and improve governance and regulation, the Eurogroup statement said.
But Madrid will also have to honour its government deficit reduction targets and commitments on structural reforms and rebalancing of its economy, undertaken under separate procedures of the EU. That will prove tough, particularly with the country's powerful regions unable or unwilling to rein in their own spending to cut their debts.
"Progress in these areas will be closely and regularly reviewed in parallel with the financial sector conditionality," the ministers added.
EU Economic and Monetary Affairs Commissioner Olli Rehn stressed Spain was expected to bring its budget deficit below 3% of GDP in a sustainable manner by 2014 and to adopt structural reforms prescribed by the European Commission.
"The explicit link between these obligations and the sectoral programme is deliberate and pertinent," Rehn said.
Speaking after the ministers' call, Luxembourg's Finance Minister Luc Frieden said: "Money will not flow immediately, because work on the analysis of the specific banks is ongoing."
Under the bailout memorandum, 14 banking groups that make up about 90% of Spain's banking system will be tested for their recapitalisation needs.
Madrid expects €30 billion in a first tranche of money that will be available immediately for state-rescued banks that urgently need funds.
An independent audit from consultancy firms Oliver Wyman and Roland Berger, published on June 21, showed the banking sector needed up to €62 billion in total.
But a second, more detailed audit, as well as new stress tests, will help determine precisely how much each bank needs and in what form - loans or cash.
Spain's 3 biggest banks - Banco Santander, BBVA and Caixabank - would not need extra capital even in a stressed scenario, the independent audit said.
It also said immediate problems were limited to four banks: Bankia, and CatalunyaCaixa, NovaGalicia and Banco de Valencia, the last three of which have been nationalised.
That leaves seven banking groups in the spotlight: Sabadell , Popular, Ibercaja-Caja3-Liberbank, Unicaja-CEISS, Kutxabank, Banco Mare Nostrum and Bankinter.
FOCUS ON SAVINGS BANKS
The money for the capital will be provided by the euro zone's temporary rescue scheme, the European Financial Stability Facility (EFSF), a €440 billion fund set up in 2010 that has about €250 billion left, not counting the money for Spain.
The EFSF has already been used to support Greece, Ireland and Portugal, making Spain the 4th euro zone nation to receive emergency aid in the 2-1/2-year-old crisis.
The EFSF loans to Madrid will have an average maturity of 12.5 years and a maximum of 15 years, with interest rates of between 3 - 4%.
Once the permanent European Stability Mechanism (ESM) rescue fund is operational, probably in September, it will take over the job of funding Spain's programme.
All Spain's banks will have to increase their core capital ratios to 9% by the end of 2012 and keep them at this level until the end of 2014.
However, the government will review by December the requirements for setting aside capital to cover losses on real estate assets.
There will be a special focus on savings banks, or "cajas", which had close links with local governments and were responsible for much of the unsustainable lending over the last decade, and their governance structure will be reviewed.
According to the memorandum, Spanish authorities will prepare by the end of November a new law to reduce the stakes that savings banks have in commercial lenders to non-controlling levels. Banks that are controlled by the cajas and receive state aid would become listed companies.
The measure is mostly symbolic, applying only to a handful of banks representing a small share of Spain's banking system, but a failure to implement it could worry investors.
The document also says holders of hybrid capital and subordinated debt in state-rescued banks will have to take a haircut on their investments in order to minimise the cost to taxpayers of the restructuring.
Hundreds of thousands of small shareholders who bought instruments such as preference shares are likely to be affected.
The first injection of capital into banks not already rescued by the state and unable to raise capital by themselves can be expected by October, after reviews by the Spanish government and the European Commission.