Spain worries propel sterling to 3-1/2 yr high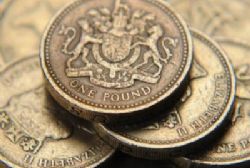 Sterling struck its highest level against the euro in more than 3-1/2 years on Friday due to growing worries about Spain, which encouraged investors to seek alternatives to the euro and ignore further evidence of a weak UK economy.
The pound shrugged off a bigger-than-expected deterioration in Britain's public finances and its gains against the euro pushed it to a near 3 year high on a trade-weighted basis.
News that Spain's Valencia region will seek government help to repay its debt knocked the euro. Worries are growing that Spain may not be able to avoid asking for a full-scale bailout as its borrowing costs trade at levels seen as unsustainable.
The euro fell to 77.72 pence, marking its lowest since the aftermath of the Lehman Brothers' collapse in October 2008.
The pound has benefited from investors looking to cut exposure to peripheral euro zone assets by buying UK government bonds, considered a relative safe haven from the euro zone debt crisis, and more gains against the euro were expected.
"It's been a relentless move in euro/sterling. We've had poor UK data but sterling's barely moved on that because there's been nervousness about the Spanish banking sector," said Lee McDarby, head of dealing for corporate and institutional treasury at Investec.
"It seems the pound is in vogue despite its shortcomings."
The pound's trade-weighted index rose to 84.7, matching a high hit in August 2009, Bank of England data showed.
Traders said the euro would now target 77.43 pence, its 100-month moving average, and then 76.92 pence, the equivalent to 1.30 euros per pound which is a key level for UK importers.
McDarby said there would be strong interest from UK importers to sell sterling and buy euros ahead of the 1.30 euro level.