Rajoy Abandons 2013 Growth Forecast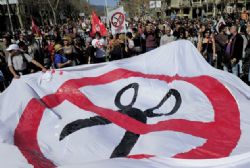 Spanish Prime Minister Mariano Rajoy abandoned his forecast for a return to growth next year as the euro area's 4th largest economy endures a fourth round of austerity.
Gross domestic product will fall 0.5% in 2013 instead of rising 0.2% as the government predicted April 27, Budget Minister Cristobal Montoro said after a weekly Cabinet meeting today in Madrid. Unemployment will rise to 24.6% in 2012 instead of 24.3%, dropping to 24.3% in 2013 instead of 24.2%, he said.
The economy returned to recession last year, and Spaniards are enduring their 5th year of crisis and surging unemployment after the collapse of the real-estate boom. The nation's economic outlook is worsening as Rajoy's government implements €110 billion of measures over 3 years to cut budgets, raise taxes, shrink public wages and charge more for education and health care to tackle the euro area's 3rd largest budget deficit.