Ryanair Cut More Flights At Alicante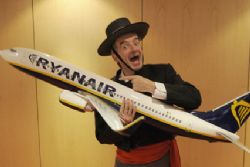 Never one to shy away from controversy, Ryanair CEO Micheal O'Leary has made the decision to cut even more flights into and out of Alicante's El Altet airport.
The airline tycoon always manages to make decisions which cause public outcry and bad press, however this decision appears to be motivated in protest over airport tax hikes imposed since 1st July and will likely win support from anti-austerity supporters.
Mr O'Leary claims the disparity in airport taxes is unfair and counter productive to raising Spain's economy out of recession. He continues that the tax hikes into and out of Madrid and Barcelona are completely unrealistic and unsustainable making it more difficult to bring travelers to them.
As a result, Ryanair will be cutting routes from this winter to Barcelona, from El Altet and cuts to Madrid may follow.
The airport has already reported more than 1 million fewer travelers this year, in part but mainly due to Ryanair cutting it's flights into the airport over the air-bridge scrap with airport operators AENA.
To date, Ryanair have cut more than 30 routes into and out of El Altet and say more cuts will ensue.
With several alternative airports on El Altet's doorstep, including Corvera, the airport is proving to be less and less competitive. Tourism industry members around the airport are furious AENA could not resolve the air-bridge issue and blame the operators for the impact it has had on their businesses.