13'000 Bulls killed for 'sport' in Spain each year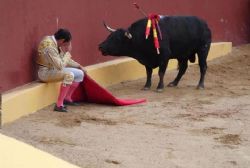 The photograph depicts the end of the career of reknowned Matador Torero Alvaro Munera. He collapsed in remorse mid-fight when he realized he was having to prompt this otherwise gentle beast to fight. He went on to become an avid opponent of bullfights.
Torero Munera is quoted as saying of this moment: "And suddenly, I looked at the bull. He had this innocence that all animals have in their eyes, and he looked at me with this pleading. It was like a cry for justice, deep down inside of me. I describe it as being like a prayer - because if one confesses, it is hoped, that one is forgiven. I felt like the worst shit on earth."
Late last week, following the last of the Pamplona bull-running fiestas for this year, camaign group "Four Paws" called for an end to such 'Blood Sports' in Spain.
This year's fiestas at Pamplona resulted in 22 injuries and the deaths of 42 Bulls.
With an average of 13'000 Bulls killed every year in Spain at bullfights and bull-runs, it is little wonder that the country has a shameful reputation for animal cruelty.
What is even more surprising is that with a reported 80% of the population being against such cruelty, the 'tradition' is allowed to continue to favour the whim of the minority.