Spanish protests swell as jobless march on Madrid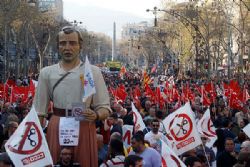 Hundreds of unemployed Spaniards who had walked hundreds of kilometres (miles) to Madrid joined protests on Saturday against Mariano Rajoy's PP government and its handling of an economic crisis.
Demonstrations have swollen across Spain since the centre-right government announced €65 billion euros in new spending cuts 2 weeks ago to cut its deficit and avert a full-blown bailout, with firefighters and police joining a mass protest on Thursday.
Several hundred people journeyed on foot from the southern region of Andalucia, which has one of the worst unemployment rates in Spain, and from northern Catalonia and other areas in an attempt to highlight the plight of the unemployed in recession-hit Spain, where almost 25% are jobless.
"I joined the Barcelona-Madrid march, the march for dignity, and I'm protesting to get a decent job ... and against the cuts and what they are doing to citizens," said Tania Faturechi, 30.
After demonstrating outside the Ministry for Employment earlier in the day, in the evening protesters banging drums, blowing vuvuzelas and chanting "Unemployed, wake up!" marched towards Madrid's Puerta del Sol, a central square that has seen hundreds of thousands demonstrate against government austerity.
They were joined by members of the "Indignados" (Indignant) movement, which has organised sit-ins at the square for more than a year.
"This is our home!" the crowds sang as they spilled into the square. Many bore banners railing against the markets squeezing Spain's finances, with slogans such as "Debt is modern-day slavery" or "Unemployed against the risk premium".
Violence erupted at a miners' protest earlier this month and police used teargas and rubber bullets.
The government is trying to avert a full-scale bailout after being forced to ask euro zone leaders for up to €100 billion to help ailing banks in the zone's 4th-largest economy.
Rajoy has pushed through the €65 billion euros of spending cuts and tax rises to meet deficit targets set by Brussels that are widely blamed in Spain for pushing the economy back into recession for another year.
One of the government's most controversial cuts will affect unemployment benefits, set to be reduced for the newly jobless.
Spain's borrowing costs have continued to climb to record highs, reaching a peak on Friday after the Valencia region asked for financial help and the government unveiled gloomy economic forecasts.
The economy is likely to remain stuck in recession next year and unemployment will drop only slightly in the next 3 years, the government said.