Government revise economic forecast for 2013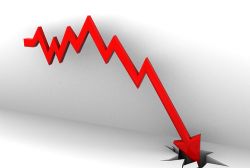 The Central Government has predicted that the economy will remain in recession in 2013, with a 0.5% fall in GDP, compared with growth of 0.2%.
Government forecasts presented on Friday reduced the economic downturn expected for 2012 to 1.5%.
The projected fall in GDP was lowered from 1.7% to 1.5% for this year, and expects to return between 1.4% and 1.2% in 2014, however the forecasr 1.8% figure for 2015 has been revised upwards to 1.9%.
Finance Minister Cristobal Montoro, confirmed the figures to the press on Friday, stressing how "the Gogvernment forecasts continued recession, although softer" .
For 2013 Montoro insisted that "there will be a fall in activity as hard as in 2012" which will go down in history as the second most severe recession in Spain.
The government's revised forecast for the economy also predicts that unemployment will increase from the 24.3% rate seen in April 2012, to 24.6% by April 2013.