Murcia Requests Bailout From Central Government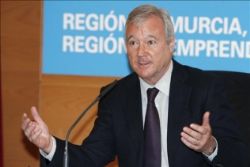 The Regional Government of Murcia has requested financial help from central government of up to €300 million Euros.
The details are sketchy at this point, however the Prime Minister of Murcia, Ramón Luis Valcárcel has said "The terms are not finalised" and "there will be strict conditions attached" in a newspaper interview for La Opinion.
Under the terms of the regional bailout fund, strict conditions are imposed on regions requesting bailout cash and many regional powers are passed to central government.
Not before time. Experts have long said that autonomy does not work. There is little control, regulation or scrutiny of public spending.
Valencia, who requested a bailout last week, have proved how regional governments have a tendency to do as they please, spend how they want and refuse to take criticism from anyone who questions their decisions.
News of the request comes as a tremendous coincidence after news broke yesterday of the Murcia Region being liable for up to €200 million Euros as bank loan guarantors to the consortium constructing Corvera Airport.
Click to read the story of Corvera Airport hitting a financial hurdle here
Compared to other regions, Murcia is one of the least indebted. Additionally, there are viable projects in progress including the much anticipated Paramount Theme Park.
Murcia is the SECOND region to request a bailout after Valencia. Experts believe more regions will follow