Corvera and Castellon airport : Lesson to be learned ?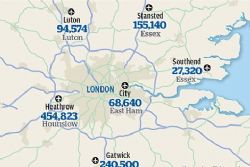 Let's consider London-Essex airport, or - to be more specific and call it by its 'proper' name - Southend on Sea Airport.
If you have lived in Spain for more than the last 12 months you may be forgiven for being totally unaware that such an airport even existed.
London-Essex airport has one thing alone in common with the airports of Corvera and Castellon : It is privately owned. And there any and all similarities end.
Southend has been a minor airport for much of the 1990's and 2000's, but one of the notable points to mention about London-Essex (Or "SEN" to give the airport it's IATA code) is that fact that it was only sold to the current owners - The Eddie Stobbart Group - in 2008.
Since 2008 the airport has invested over £100 Million into the facility, and has received the Airport Achievement Award from the European Regions Airline Association.
In 2011 the airport constructed and commissioned a new control tower and welcomed daily flights to Waterford, Dublin and Galway.
Later in the year an on-site, dedicated railway station was opened by the Minister of Transport, and the runway was extended.
In March of 2012 a new Terminal building, able to process some 1 million passengers per year, was opened - coinciding with an announcement that Easyjet had just signed a 10 year deal, to commence the following month.
The Point ? - 4 Years, 1 owner, £100 Million investment = Successful operational airport
By Comparison :
Castellon Airport : Privately owned by a 'consortium' of private investors, local and regional governments, but yet with no officially announced operator. Although the Government have refused to disclose the amount spent on the project to date, the amount is believed to be in excess of 150 Million Euros. Although the airport was conceived as an idea more than 6 years ago, and officially opened as an airport in March of 2011, there is no indication that it will open on time, as promised, on January 1st 2013.
Corvera Airport : Privately owned by a consortium of Private investors and regional Governments, but operated by state owned AENA. Conceived as an idea 7 years ago, with work commencing in 2008, the airport has cost more than 200 Million Euros to date, with no indication if the required airspace will ever be ceded to the operators.
I'm sure that there are lesson that could have been learned by the Spanish here.
Read Tumbit's archive of news articles on Corvera airport by clicking >> HERE << , and on Castellon airport by clicking >> HERE << .