Spanish Siesta Latest Victim of Crisis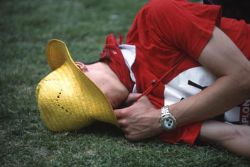 Love it or hate it, the world renowned Spanish "Siesta", a past time enjoyed by the nation on a daily basis is likely to be officially scrapped.
Ministers who set retail opening regulations have decided that the "snooze" time, typically between 2pm and 4pm, is counterproductive to any recovery hopes the country may have.
As Spain falls deeper into recession and looks inevitable that a full-blown bailout will be required from Europe, ministers hope the move will encourage shoppers to change their spending habits and make full use of the additional opening hours.
Carmen Cardeno, director general for domestic commerce at the economy ministry has said "We need to evolve and be more flexible". Spanish shops open for the least amount of time than anywhere else in Europe.
Under new measures, retailers will be allowed to open for an additional 18 trading hours per week. Sunday/Fiesta trading has also been increased from 8 to 10 days. Retailers typically bank their Sunday/Fiesta days and use them in August and December.
Additionally, retailers will be allowed to decide when they cut their prices instead of the 2 sale periods imposed on them under current legislation.
Small retailers have complained that the new measures will discriminate against them as they neither have the resources or manpower to compete with larger retailing institutions.
"The measures do not go far enough" said Javier Millan-Astray, Director General of the retail association ANGED. "We had been pushing for 16 Sunday/Fiesta days per year"
All of this comes as Government reform is looking to the retail industry to increase tax revenue. However with recent hikes in tax, from 18% to 21%, due to come into force from 1st September, experts cannot see how increasing trading hours will increase sales when prices are being forced up.