Valcárcel Denies Murcia Bailout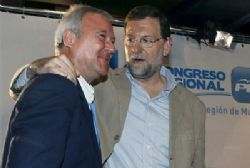 Over the weekend, it was revealed that the Murcia Regional government had requested a bailout from central government of up to €300 million, a revelation which Ramón Luis Valcárcel, president of the region vehemently denies.
In an interview with 'La Verdad' last night, Valcárcel stressed his comments made in an interview with 'La Opinion' were taken out of context and ultimately led to news agencies around the world reporting Murcia being the second region in Spain requesting a bailout.
Speaking to 'La Verdad', Valcárcel insisted that "the regional liquidity fund is not a bailout fund or rescue package, but an alternative mechanism of financial assistance in which regions can be financed with state guarantees". He was very clear that this fund is not a bailout mechanism nor using it is any kind of rescue.
In a statement issued yesterday in the wake of the bailout news, Valcárcel stressed "No decisions had been made about seeking finance from the regional liquidity fund".
Despite the rhetoric of denial, non bailout and non rescue, the very fact that Valcárcel and his regional government are mulling over the idea of dipping into the "alternative mechanism of financial assistance" signals Murcia is likely to take a regional bailout and everyone will see it that way.
Tumbit reported yesterday how the timing of the news comes as a coincidence after revelations that the regional government are liable as guarantors to bank loans given to the consortium constructing Corvera Airport - Read our report here >> "Corvera Airport Hits Financial Hurdle"
Spain is in a critical situation being heavily dependent on financial markets. Spain's borrowing costs are at an all time high and experts believe a full blown bailout is inevitable.