Murcia WILL Request Bailout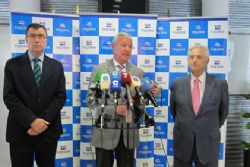 After many interviews, press conferences and comments denying any kind of bailout, Ramón Luis Valcárcel, president of the Region of Murcia has confirmed the region is seeking financial assistance from central government according to Spanish newspaper La Verdad.
Valcárcel made the announcement in Brussels where he was chairman of the Committee of the Regions.
Although the words used do not mention bailout or rescue, words which politicians do not like to use, by dipping into the regional liquidity fund setup by central government effectively means bailout and rescue.
The fiasco has enraged the regional government and PP Murcia who themselves have struggled to comprehend why the twists, turns and denials when in reality the bailout request was always on the cards. Yesterday, Valcárcel was making every effort to deny it's need for bailout whilst Vice President and Minister of Economy and Finance, John Bernal said they had decided to make a request - >> READ: Valcárcel Denies Murcia Bailout
Likewise, the mayor of La Union and PP deputy general secretary, Francisco Bernabé, stated in a press conference that the regional government did not plan to use this rescue mechanism, the complete opposite of what Valcárcel said just hours later.
Tumbit reported on Sunday as news broke of the region requesting financial assistance - >> READ: Murcia Requests Bailout From Central Government
Trying to make everything sound normal, Valcárcel said "What I said and what I ordered is that we want to refinance our debt, not through the banks with high interest rates, not through the market with impossible rates, but only with the approval of the State. That is all I ask, that's not a bailout" as quoted by Spanish news agency 'Efe'.
Murcia needs to refinance debt of up to €310 million maturing later this year. Murcia also needs to find an additional €425 million to cover its projected deficit for this year.
The timing is a coincidence given that Murcia may have to pay for Corvera Airport following revelations that the regional government are guarantors for loans totalling €200 million given to the consortium constructing the airport - >> READ: Corvera Airport Hits Financial Hurdle
The terms of using the 'Regional Liquidity Fund' have yet to be finalised, but will no doubt result in further austerity and regional powers being handed to Madrid. Any rescue will not be in place until September 2012 when the fund is fully operational.
Being the second region to request a bailout after Valencia will no doubt shake markets across the world. US markets have already begun dumping euro stocks over fears a full bailout will be required and ultimately the end of the Euro.
Murcia's request for a rescue is small in comparison to Valencia's €3.3 billion. Other regions such as Catalonia and Castilla-La Mancha are considering following in the footsteps of Valencia and Murcia, while Galicia, the Canary Islands, Extremadura, the Balearic Islands and Castilla y Leon have said they will not need a bailout.