Germany not urging Spain to seek full bailout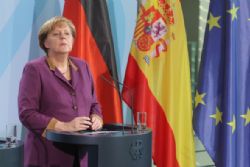 Germany has not urged Spain to seek a full sovereign bailout, a spokesman for the finance ministry said on Wednesday, dismissing a report that the German finance minister had made such a request during his meeting with the Spanish finance minister in Berlin a day before.
Asked about the report, finance ministry spokesman Johannes Blankenheim said: "That's absurd and not up for debate."
The German government does not believe the euro zone "is on the brink of disaster", a government spokesman added during a regular press conference in Berlin.