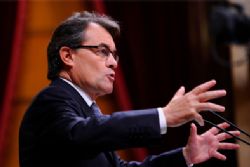 Cataluña has requested financial assistance from the Regional Liquidity Fund making it the third region to request a bailout from the Spanish Central Government after Valencia and Murcia.
Under the terms of using the rescue fund, many regional powers will pass to central government. The move would not sit well with the Catalan public who are eager to split from the Spanish state and become independent.
The Catalan Government will no doubt try to alter any terms of a rescue in order to protect its regional autonomy.
Likewise, the Spanish public will want to see Cataluña more integrated with the state if their tax Euros are to fund its rescue.
Cataluña, like so many other regions, have been shut out of bond markets due to poor credit ratings, expensive interest rates and mounting debt. The Catalan Regional Government, like so many regions in Spain, has spent well beyond its means.
On Wednesday, the Catalan parliament voted to negotiate a new fiscal policy with Spain whereby a completely independent tax agency would be created and taxes collected in Cataluña would remain in Cataluña.
Catalan politicians have continually used the argument that the amount that Cataluña contributes to the Spanish state is far above what it receives in return and claim they are subsidising services in other regions who cannot afford them. Additionally, Catalan politicians claim just half of the 9% of GDP contributed to the Spanish state would mean the region's deficit would ZERO.
However, with debts of more than €42 billion, Cataluña is the most indebted region in Spain. Cataluña has a long history of spend now pay later policies as well as several politicians being found guilty of fraud, misappropriation and corruption. All of which completely negate their arguments.
The rhetoric from Barcelona is that they have every right to tap the Regional Liquidity Fund as they contribute to the Spanish state. Catalan president Artur Mas said it is "not a rescue or bailout. I would never allow an 'intervention' of the Catalan autonomy".