Spain 'can pay its debts'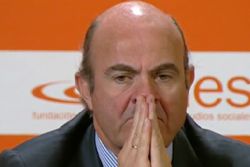 Spain's Economy Minister Luis de Guindos said on Thursday the Treasury would meet debt redemption payments and said that government coffers were in the same liquidity position as last year.
"In the medium and long term. Spain is solvent and able to pay its high debts. In the short-term, we have the capacity to meet our obligations," de Guindos said at an event in Madrid.
The economy minister also said he had never believed there was even the remotest possibility that Spain would need a bailout.
Comments by the ECB President Mario Draghi's that the bank would do whatever necessary to protect the euro zone from collapse were well timed, de Guindos said.
Draghi's pledge on Thursday fuelled expectations the ECB was ready to take bolder action to combat the euro zone debt crisis and brought Spanish 10-year bond yields down by 40 basis points on the day.