Castellon Airport : 'Mistakes were made'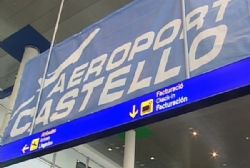 The president of Valencia, Alberto Fabra, yesterday admitted that the Castellon Airport project "had not been well-managed".
The regional premier went on to confirm how Castellon airport will be in a position to welcome tourists "in principle" next year, but has stated that there should be a "minimum flight and duty" to ensure that the operation of the airport does not impose on regional finances.
Fabra was addressing a forum at a breakfast meeting where he was asked about the future of the airport, responding that the facility will become operational, but only when the best operating consitions could be guaranteed.
The President also confirmed that the airport would not open until a certain number of flights per week could be guaranteed, but declined to explain what that number would be.
He also explained that the final licences and certificates were under approval, and that the state Airports authourity - AENA - would not have any involvement at the facility.
Read our archive of news articles on Castellon Airport by clicking the link > HERE < .