Corvera and San Javier Airports 'close to reaching agreement'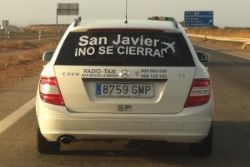 The recently appointed Head of the General Air Academy at Murcia's San Javier Airport has commented how San Javier and Corvera airports can operate together in harmony.
Colonel Emilio Juan Gracia was speaking at a reception with the Mayor of Cartagena, Pilar Barriero, where he confirmed that his overall responsibility in his new role was to coordinate with the opening of Corvera airport.
Furthermore, the Colonel said how he will hold a meeting with various official from the regional and national governments, aswell as both airports, to assess the proposals from all parties.
He also commented how the he expcts that the recently announced cuts to the military will not affect the operation of the Academy, but would not rule out the possibility that some cuts may need to be made in certain areas.
Colonel Gracia also commented how the regional airports were "close to reaching an understanding" with regards to how operations could be transfered from San Javier to Corvera.