Soaring Spanish unemployment hits record highs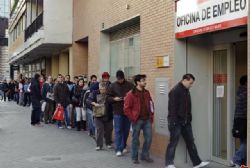 Spanish unemployment hit its highest level in Q2 since the Franco dictatorship ended in the mid-1970s, succumbing to a crisis of confidence among business and consumers that looks likely to escalate as the country's recession drags on.
The jobless rate rose to 24.6% from 24.4% in the 3 months to March, the National Statistics Institute (INE) said on Friday.
The number of unemployed Spaniards hit 5.7 million, giving the country the highest proportion of people out of work in the EU.
That figure continues to rise as a government battling to stave off a sovereign bailout piles on fresh austerity measures while the economy shrinks.
"It's another example of the dire position the economy is in, and with the economy unlikely to expand anytime soon, and probably more likely to fall deeper into recession, things are only going to get worse," economist at Capital Economics Ben May said.
Friday's headline figure - below a Reuters forecast of 24.9% - was the highest since current records began in 1976, the year after Francisco Franco died and the country began its transition to democracy.
Spain's economy has stagnated or been in recession since the beginning of 2008 after the labor-heavy property sector stalled as a glut of cheap credit dried up.
The latest slump, which began in the first quarter, is expected to last into next year while the government said last week it does not expect unemployment to fall much below 22% until 2015 at least.
Almost a third of all the euro zone's jobless are in Spain, with young people the worst hit. According to figures from EU statistics agency Eurostat, half of the country's people aged under 26 and available for work are unemployed.
WAVE OF PROTESTS
Consumer and business confidence has been pummeled by concerns that Spain, which had to seek an up to €100-billion credit line for its banks and is trying to rein in its highly-indebted regions' finances, may need a full bailout.
Deep spending cuts and hefty tax hikes to reduce one of the euro zone's highest public deficits have sparked country-wide protests, from massive, largely peaceful marches by the unemployed and public workers to violent clashes between miners and the police.
Anger is growing at the country's politicians and the banks, kept afloat with public money while basic services like health and education are being dramatically cut.
At an employment office in Madrid, dozens of people are queuing, as every morning, but nobody has real hope of getting a job any time soon. "They should stop telling us stories and get us out of this situation," says 34-year-old accountant Jose Maria Collado.
"Of course the real problem is that the banks have done whatever they wanted to do without any control. That's why we are in this situation."
NO HOME, NO BENEFITS
The depth of the economic slump varies enormously from region to region, with the northern industrialized Basque Country registering unemployment of 14.6% in Q2.
The rate soared to 33.9% in the southern region of Andalusia, where squatters have become a focal point of protests against the conservative government's attempts to ward off the crisis.
Vanesa Aria Fernandez, 32, her partner Pope Laguna Reinosa, 26, and their four-year-old twin daughters Tatiana and Kiomara, live in one of the first buildings to be opened and are typical of the poverty-hit families devastated by regional joblessness.
Vanesa and Pope's state benefits have run out after the cleaning company they worked out shut down 2 years ago, owing them months of wages.
According to the statistics institute, the number of Spanish homes where all the members are out of work rose by 9,300 in Q2 to 1.7 million.
Pope and Vanesa say competition for work in Seville is so intense that they have been reduced to taking odd jobs in exchange for food.
"As long as the girls eat, it's not important if I do too. There's been days when I've had to get by with just a bread roll. When I find work in the bar, we all eat," Pope says.