Petrol up by €5 on same week 2011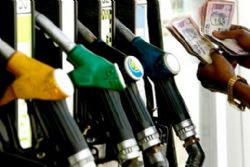 The cost of Petrol and Diesel in Spain has already increased by an average of 5.07% and 6.82% respectively, during the month of July after registering a further increase in the last week, according to Oil Bulletin European Union.
A Liter of Petrol has increased 1.92% since last week to reach an average of €1.43, while diesel has increased by 2.99% to reach €1.38.
When compared to the same week of 2011, prices are up by 7.18% and 7.73% respectively.
In relative terms this means that a 55 liter tank of Petrol now cost €78.65 this week (an increase of €4.5 on 2011), with diesel increasing to €74.25 euros (€3.6 more than in the same week in 2011).
In the year up to last week Petrol, which first exceeded the €1.40 euros the week of February 20th,has increased by 3.31%, while diesel, which exceeded €1.30 euros in April, increased by 0.15%.
However, these price increases have not been influenced by recent changes to the cost of crude oil, which is currently trading at $105 per barrel - way below it's 2008 high of $146.
These prices are still below the average cost for 95 Octane unleaded Petrol across the 27 EU member states - now at €1.645 per liter, with a liter of Diesel costing an average of €1.468.