Protests over changes to Spain abortion laws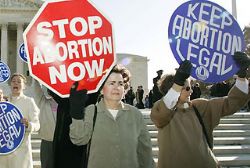 Supporters of unrestricted abortion held demonstrations in Madrid this weekend in protest over plans by the Spanish government to amend the country's 2010 law.
Justice minister Alberto Ruiz Gallardon has announced that the government will move to change the law, which was pushed through by the previous Socialist government. The changes will require girls under 18 to obtain parental consent for an abortion, and will protect unborn children suffering from handicaps. "I don't understand why we should deprive a foetus of life by allowing abortion for the simple reason that it suffers a handicap or a deformity," the justice minister said.
Feminist groups blasted the government's plan, claiming that women's health could be put at risk. Demonstrators carried signs saying: "Not one step back."