Gov't report slams Castellon Airport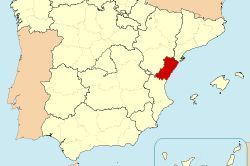 A recently released hard-hitting report paints a gloomy picture for the future of Castellon Airport - assuming of course that it opens as promised, by Jan 1st 2013.
A detailed study of the Tourism sector of Castellon was recently undertaken by the Ministry of Labour's Observatory of Occupation department. The annual report concluded that excessive property development - including the airport - has been focussed around the 'unrealistic expectations' of tourism sector in the province.
The document notes that these expectations were based on the 'boom years' when Castellon was promoting a number of world class golf courses, on the back of which they hoped to sell a number of off plan properties, launch a niche tourism industry and operate a financially viable airport. Five years down the line the many developments remain unsold, the Golf courses un-built, the tourists nowhere to be seen and the airport un-operational.
The study concludes that gamble failed due to "a lack of total sector modernization", and that Castellon was "in a poor competitive position" compared to other provinces.
Data for the report was obtained from the Public Employment Service, the National Institute of Statistics, the Valencian Employment & training Service, and other public bodies, and found that the sector has other problems, such as "a heavy reliance on the domestic market."