Premursa sign new agreement for Paramount Murcia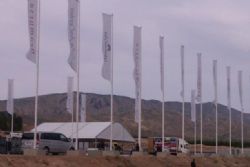 The mayor of Alhama de Murcia, Fernando Alfonso Ceron, and President and CEO of Premursa, Jesus Samper, yesterday signed a new agreement which will lay down the regulations for the construction and operation of the Paramount Pictures theme park project in the municpality.
This agreement replaces the original one signed in December of 2011, which required changes following the change to the plans after a portion of the land originally earmarked was unable to be purchased.
Signing this agreement represents the final urban backing for the project, which is continuing on schedule according to the council, and specifies that the project will create a total of 16,500 new jobs during the construction phase, and further 6,100 direct and indirect jobs when the park is operational.
The theme park aims to become a unique tourist destination in Europe, with attractions for all ages, divided into four themed areas, as well as two themed hotels.
Furthermore, the adjoining LifeStyle Center aims to become a hub for business, cultural and leisure in the region throughout the year, with a total of seven hotels and recreation area including a Street Mall, restaurants, bars , clubs, casino, convention center, an auditorium and an office park.
The theme park and Phase 1 of the Lifestyle Center is currently still on schedule to open for the summer season of 2015.
Click >> HERE << for details on applying for job vacancies at the theme park.