S&P warns of Spain downgrade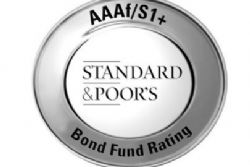 Standard and Poor's Ratings Services affirmed Spain's sovereign rating on Wednesday, citing its commitment to economic and fiscal adjustments, though warned it risked losing investment grade if euro zone support failed to boost confidence.
The agency reiterated Spain's BBB+/A-2 rating and kept its negative outlook due to multiple risks facing Spain in rebalancing its economy and the ability of euro zone leaders to stabilise markets, and other possible threats.
However, it said the country's outlook could be revised to stable if the government was successful in reining in its public finances and if a euro zone support program was implemented.
"We could also lower our ratings on Spain - potentially by as much as a rating category (i.e. below 'BBB-') - if we see that euro zone support fails to engender confidence sufficient to keep government borrowing costs at levels consistent with debt sustainability, and a primary general government budget position in broad balance," S&P said.
Spain is at the centre of the 2-1/2 year euro zone debt crisis after asking for up to €100 billion to help recapitalize its struggling banks, and it faces mounting costs from its overspending regions as it fights to deflate the public deficit.
The conservative government has passed a string of budgetary measures aimed at cutting debt, though concerns its efforts will be scuppered by a deep recession and failure to confront the crisis at a European level has pushed risk premiums sky high.
BOLD STEPS
The success of Spain's efforts will largely depend on bold steps being taken by the euro zone to stem market pressure, including financial support from its European peers and the European Central Bank, S&P said, adding this was its baseline scenario.
Spanish debt yields in the secondary markets fell from euro-era highs last week after ECB head Mario Draghi said he would do whatever is necessary to support the single currency, fuelling investor hopes of decisive action by the central bank.
The ECB holds its monthly governing board meeting on Thursday, shortly after Spain faces rising yields to auction up to €3 billion of medium- and long-term debt.
"On the other hand, we could revise the outlook on the rating to stable if the government's budgetary and structural reform measures, coupled with a successful euro zone support program, stabilize Spain's credit metrics," it said.
S&P said it expected Spain's debt-to-GDP ratio to stay under 80% beyond 2015 as loans to distressed banks are likely to be eventually mutualized by the euro zone.
The aid for the Spanish banks is due to come before the end of the year and will likely be granted first to the Spanish government, lifting its debt levels by around 10 percentage points, before being funneled to the banks.
However, plans by euro zone leaders to create a single banking union in the region mean that debt could be taken off the state's books.
S&P added that the country's rating could also be affected by persistent budget deviations in the 17 autonomous regions, which are fighting to reduce budget deficits in the midst of the deep economic downturn.