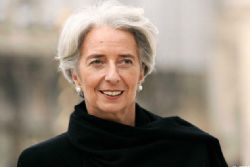 The head of the International Monetary Fund on Wednesday vowed the global lender will stand by troubled Greece and said uncertainty over the future of the euro zone was clouding the outlook for the embattled Spanish economy.
IMF Managing Director Christine Lagarde told reporters the decline in global economic confidence was being fueled by weak economic data coming out of many countries and investors reacting to that.
On Spain, Lagarde again praised Spanish efforts to cut its budget deficit and overhaul its economy to boost growth. Those efforts were however being undermined by investor uncertainty over the future of the euro zone, she said.
Spain's struggling economy, which continues in recession, has been taking a beating from investors despite ambitious fiscal and structural reforms and a €100-billion bailout for its banks hit by the bursting of a property bubble.
Lagarde said an IMF supervised program in Spain would not demand much more than the government is already doing.
"What Spain has already done and is committing to do is not much more than we would be asking from Spain if it was in a program with the IMF," Lagarde said, calling Spain's fiscal consolidation a "huge effort".
She said, however, that more could be done to address weaknesses in the Spanish banking sector.
While there are lingering concerns among investors over continued weak growth in Spain, Lagarde said improving exports showed that the economy was starting to mend.
"There are factors at work to improve the Spanish economy but there are also external elements that cloud the horizon of Spain and that is the uncertainty in the euro zone in general," she added.