RENFE to Strike on Friday 3rd August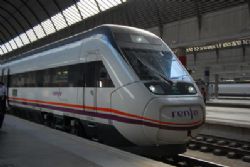 Unions representing Spain's railway workers have called a strike on Friday of this week - the 3rd August.
Employees want to show their opposition to the recently announced plans to divide the state-operated RENFE into four separate companies to cover Passenger transport; Commercial freight; Maintenance and rolling stock.
The Unions and their representatives are concerned that this measure is intended to manoeuvre the sector into a position where it can be quickly and easily privatised.
The Government has imposed minimum services of 75% for all AVE and long distance trains; 67% for shorter journeys; 60% for rush hour train journeys in and around the capital, with 42% of all other services remaining unaffected for the rest of the day.
Picket lines have been announced for Friday of this week, with a further strike due to take place on September 17th.