Spain, Italy say any talk on seeking EU aid premature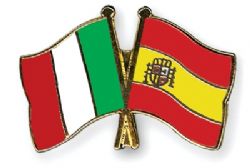 Spain and Italy said on Thursday it was premature to say if they will seek the activation of EU mechanisms to buy their debt and bring down their borrowing costs.
Such a request, which would entail negotiating a memorandum of understanding with other euro zone countries and would likely bear strong conditionality, is required to trigger a coordinated intervention of the ECB, its president Mario Draghi said on Thursday.
But asked at a joint news conference following a meeting in Madrid if they would consider taking this step, the Spanish and Italian PMs Mariano Rajoy and Mario Monti insisted it was not on their agenda at the moment.
"We didn't talk about it," Monti told journalists, adding that such considerations were "premature" and that financial markets had probably underestimated the content of ECB's Draghi's statement.
"I do not know if Italy will ask for activation of this instrument," Monti also said. "We will have to examine the characteristics and see if we need it or not."
Rajoy, when asked three times by reporters whether Spain would seek the activation of the EU mechanisms, only said he welcomed the ECB's statement that it would use non-conventional measures in defence of the euro.
Spanish and Italian government bond yields rose on Thursday while European shares extended falls after Draghi announced no immediate measures to stem the euro zone debt crisis.
He said the ECB would draw up a mechanism in coming weeks to make outright debt purchases to stabilise peripheral euro zone states' borrowing costs.
In a joint statement issued after the news conference, Spain and Italy said the mechanisms and instruments agreed at the last EU summit should be put in place as soon as possible so that they are ready for use "if needed".
Spain requested in June an up to €100-billion aid to recapitalise its banks but the measure has failed to stem market pressure more than a few days.
Many analysts believe it will be forced to seek more international assistance as it is struggling to rein in its public finances and control its regions spending.
The country needs to issue another estimated €35 billion euros this year to finance its deficit and repay its debts.