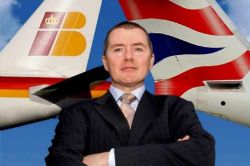 The owner of British Airways and Iberia rang the alarm bells on its exposure to Spain on Friday, announcing contingency plans for a euro exit by the country and a wholesale restructuring of its underperforming Spanish carrier.
International Airlines Group (IAG) said it had set up a team to study the impact on the business if Europe's 4th largest economy was forced to leave the single European currency.
IAG said the group meets every 2 weeks to "scenario plan based on previous shocks to the business" and had drawn up "a Spain Euro exit roadmap project which considers the commercial, administrative, systems and people issues to be addressed" if Spain was forced to leave the euro zone.
Spain lies at the heart of the single currency's sovereign debt crisis as it struggles with a 2nd recession in 3 years, record unemployment and soaring bills from its regions and debt-laden banks.
The move comes as IAG announced plans to overhaul Iberia as the group tumbled to a first-half group loss and cut its full-year earnings guidance.
Willie Walsh, the head of IAG, said the Iberia reorganization would mean shedding jobs and reshaping its network.
"Iberia's problems are deep and structural and the economic environment reinforces the need for permanent structural change," Walsh told reporters.
"The plan should be completed by the end of September and will encompass every aspect of Iberia's business."
Against a background of soaring fuel costs, Iberia made an operating loss of €263 million in the first half of 2012, compared with a €13 million profit at BA.
"It's been a tale of two airlines and 2 cities with BA and London doing well and Iberia and Madrid struggling," said Davy analyst Stephen Furlong.
"Iberia has been hit by tough economic conditions in Spain, it has a high cost base and labor costs, Spanish airport charges have risen and it is struggling to compete with low-cost airlines."
Shares in IAG, Europe's 4th biggest airline group by market value, have fallen 10% in the last 3 months.
They were 3.95% down at 153 pence by 10:08 a.m. EDT, making it the top faller on London's FTSE 100 and valuing the group at around £2.8 billion.
CRISIS IMPACT
European airlines are being hit by slower spending on air travel amid the euro zone debt crisis as well as by high fuel prices, and many have responded by shutting down unprofitable routes and limiting their spending.
IAG's European peers Lufthansa and Air France-KLM have embarked on cost cutting programs, trimmed profit forecasts and slashed plans to expand capacity and fleets this year after results were battered by high fuel costs and weakening consumer demand.
In recent years - amid weak economic growth, high unemployment and an uncertain outlook - companies and consumers have changed their attitudes on how much service and comfort they are willing to pay for, with many switching to low-cost airlines such as Ryanair and easyJet.
But even budget carriers have had a tough time. Ryanair plans to ground 80 planes in the face of weaker demand.
Earlier this year easyJet said it planned to cut flights to and from Madrid by 20% after ceasing to base aircraft and employees there.
BA and Iberia sealed an $8 billion merger in 2010, a move that helped the pair stem huge losses following the worst industry downturn in decades.
Walsh said it was "a question of when, not if" troubled Spanish lender Bankia would sell its 12% stake in IAG following its state bailout.
"I see no strategic value to having Bankia as an investor," he added, while downplaying the possibility of another airline buying the stake.
CHANGING GUIDANCE
IAG, which earlier this year predicted it would break even in 2012, expects to make a small operating loss for the year because of restructuring costs and the short term earnings drag from the bmi acquisition.
IAG reported a group operating loss of €253 million in the 6 months to the end of June compared with a profit of €88 million in the same period a year ago. Group revenue rose 9.8% to €8.53 billion.
IAG said its fuel costs rose 25% to just under €3 billion, while non-fuel costs jumped 9.5% to €5.8 billion.
Earlier this year IAG predicted its annual fuel bill would rise by €1 billion. Combined with €90 million worth of restructuring costs stemming from its acquisition of bmi, Walsh said IAG would struggle to make any money this year.