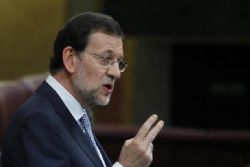 Support for Spanish PM Mariano Rajoy's party has slipped 8 percentage points in as many months, a poll showed today, as the deepest budget cuts on record failed to shield the nation from Europe's debt crisis.
The ruling PP party would win 36.6% of the vote if elections were held now, compared with 40.6% in an April poll and 44.6% in the Nov. 20 election, the state-run Center for Sociological Research said today. The opposition Socialists would win 29.9%, compared with 29.6% in April and 28.8% at the election.
Rajoy was graded 3.33 out of 10, while Socialist leader Alfredo Perez Rubalcaba was rated 3.8 in the survey. Rosa Diez, the leader of Union, Progress and Democracy, a five-year-old party with five of the 350 seats in Parliament, was rated highest with 4.36. Her party would win 6.6% of the vote.
Rajoy, who has an outright majority in Parliament, has broken election pledges on taxes, benefits and health care in his efforts to prevent Spain needing a full international bailout. Even as he implements more than €100 billion of budget cuts and laws designed to lower the 25% jobless rate, the continued surge in borrowing costs forced him last week to say he may consider external help.
The government, in power since December, agreed to a European rescue for its banks in June of as much as €100 billion as its access to financing narrowed. The yield on the benchmark 10-year bond rose to a record of 7.75% on July 25, and traded at 6.789% today.