Girona forces Supermarkets to lock bins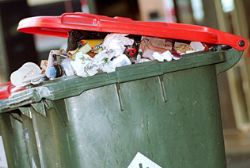 The Ayuntamiento of Girona in Catalonia has made the extraordinary move of instructing the Town's supermarkets to fit locks onto the rubbish bins they use to dump their out of date stock.
The worsening economy and increase in the level of unemployment in Spain has resulted in a dramatic increase in the number of people scavenging the bins for edible foodstuffs at the end of each working day, which the authorities are keen to put a stop to.
Officials at the Town Hall claim that the move has been taken in order to prevent any risks to social health, and because the sight of such scavenging the streets "causes alarm".
Instead, a system has been introduced to point those desperate enough to be forced to scavenge for food to local charities, where they will receive a food basket containing a number of food products.