Thousands of Spain jobseekers still waiting June benefit payment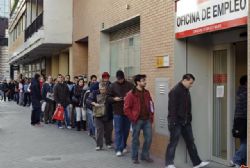 Around 200,000 of Spain's 5 million plus jobless have been left without their €400 benefit payment for June, due to what the government has called "an accounting problem."
Those who form part of the so-called "Plan Prepara" are waiting to receive the payment, which should have been made at the end of July.
Participants in Plan Prepara are among the neediest in terms of state support, given that to qualify for the scheme they must have already exhausted their regular unemployment benefit, and have annual income of less than 75% of the minimum wage (€7,696). In exchange, recipients join a program aimed at getting them into the job market.
According to the Ministry of Employment, the problem has arisen given that the new budget for 2012, which was approved on June 29, has now come into force. Such changes to the budget, the ministry said, cause delays to the administrative processing of payments such as Plan Prepara.
But the problem "is already on its way to being solved, and credit has been freed up to make the payments," the ministry claimed.
The €400 benefit scheme was approved by the former Socialist administration of José Luis Rodríguez Zapatero to deal with the growing problem of unemployment in Spain.
After winning the elections in late 2011, the right-wing government of Mariano Rajoy extended the plan until August 15 of this year, after which it will be reviewed. Spain's biggest labor unions, UGT and CCOO, have joined forces with the opposition Socialists to demand that the government extends the plan for another 6 months.