CAM Bank forced to refund off-plan deposits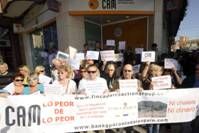 Following the Finca Parcs trial in May of this year Spanish property developer Cleyton GES SL and CAM Bank (now SabadellCAM) were jointly convicted by the First Instance Court to repay in full the off-plan deposits paid by group members plus interest and costs. Cleyton GES SL did not appeal the First Instance Court Judgment; however neither defendant paid the funds to the Court within the time limit set by the Judgment. Therefore the Finca Parcs Action Group filed a Provisional Enforcement Order with the Court which resulted in CAM paying the full value of the deposits plus the amount tentatively set for interest and costs to the Court.
Keith Rule coordinator of the Finca Parcs Action Group & Bank Guarantees in Spain Action Group comments: "We continue to make progress in this case and it shows that the Provisional Enforcement Order can work in a timely and efficient manner if you are enforcing a judgment against a solvent entity. Our case differs to other similar cases due to the fact that we also included the Bank in our Lawsuit. We filed our Provisional Enforcement Order with the Court on 18 July, it was admitted and enforced by the Court against both defendants on 19 July and on 1 August CAM paid the full amount to the Court. In due course the Court will transfer the funds to our Lawyers client account and we will have 'interim' possession of our funds pending the result of the Appeal".
OPPOSITION TO THE CAM BANK APPEAL
Finca Parcs Action Group filed their Opposition to the CAM Bank Appeal on time and the Appeal will now be heard by the Albacete Appeal Court.
Keith explains, "The Appeal is not a physical hearing so we will not be called to appear in person again. Three magistrates in the Albacete Appeal Court will preside over the Appeal reviewing all the evidence and the first instance Judgment. Based on the timescales of other appeals in the Albacete jurisdiction, we expect the appeal decision to be released within one year".
Jaime de Castro, Lawyer for the Finca Parcs Action Group comments, "After reviewing the Banco CAM appeal and submitting our Opposition to that Appeal, I feel confident of a successful outcome in this case given the strength of the First Instance Judgment against CAM and the available Case Law relating to Banks liabilities and obligations according to Spanish Law, LEY 57/1968"
Maria de Castro, Director of Costa Luz Lawyers, one of the two legal teams that have been working on this and other similar cases over the past few years adds, "The success of this appeal will enhance confidence in our judicial and banking systems abroad which have been severely weakened during these years of crisis. We are confident that the precise interpretation of LEY 57/1968 by the courts will help to encourage future real estate investment by ensuring that these abuses do not occur again"