Spain warns Bankia investors of clean-up costs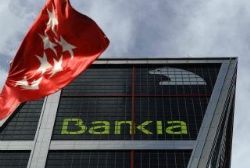 Recent sharp rises in the stock of troubled Spanish banks Bankia and Banco de Valencia has prompted Spain to remind investors that shareholders in rescued banks receiving aid from Europe could suffer losses.
Spain's state-backed restructuring fund, the FROB, said late on Thursday shareholders must participate in the cost of the clean-up of the banks as part of the conditions attached to the up to €100 billion European credit lifeline.
Shares in Bankia, virtually wiped out after the bank was rescued by the state in May, have nearly doubled in price to €1.6 since the beginning of August in anticipation of the first tranche of cash from Europe.
Shares in illiquid Banco de Valencia have tripled to 0.3 euros in the same period.
"In our view, the FROB is trying to stop the speculation around the share price of Bankia and Banco de Valencia," said Francisco Riquel, analyst at broker N+1.
"The recent share price performance is completely irrational, and reflects a combination of short covering and speculation," he added.
Bankia, Banco de Valencia, CatalunyaCaixa and NovaGalicia are the four banks rescued by the state that are most urgently in need of funds. CatalunyaCaixa and NovaGalicia are unlisted regional banks.
Spain is currently carrying out a bank-by-bank stress test of its lenders due to finish in the second half of September, conducted by external consultant group Oliver Wyman and based on the inputs from 4 independent auditors.
Banks with capital shortfalls must present recapitalisation plans by early October with the European Commission expected to approve those of the 4 state-rescued banks by November.
The conditions attached to the European rescue funds make clear that banks receiving state aid must contribute to the cost of restructuring as much as possible with their own resources to minimise the cost to taxpayers.