Castellon airport final test flight 'weeks away'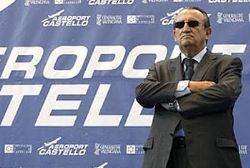 The Regional Minister for Tourism has announced how the Generalitat Valenciana is considering the date for the official test flight at Castellon airport.
Lola Johnson told Europa Press that the Government has been working on the final stages of the certification process, and that things are still on schedule for the aiport to be operational by the end of the year and was hopeful that a date for the final test flight would be set in the coming weeks.
The Minister also spoke of the ongoing process to outsource the management of the airport .
Elsewhere Carlos Fabra, the President of Aerocas, spoke of how a syndicate of arab investors may be interested in bringing a guaranteed number of flights to the airport.