German Foreign Minister "Optimistic about Spain"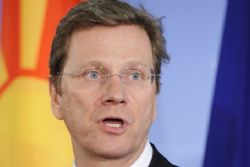 German Foreign Minister Guido Westerwelle said he did not want to speculate on whether Spain would need a euro zone bailout but that he was optimistic about the Spanish government's reform course, Bild am Sonntag newspaper reported.
Westerwelle made the comment while answering questions from German tourists on the Spanish island of Majorca in a meeting arranged by the newspaper and published on Sunday. He was asked by a student how long Spain would be able to survive without assistance from the euro zone bailout fund.
"The Spanish government with its PM Mariano Rajoy is showing a great determination for reforms. That's why I'm optimistic for Spain," Westerwelle said.
When the 25-year-old student from Bavaria pressed Westerwelle for an answer to his question, the foreign minister said:
"I'm not going to speculate. If I were to give you the answer now that Bild am Sonntag is perhaps hoping for, that would lead to a big headline and we'd have a big problem. By the way, I did answer your question: I consider Spain to be a very strong nation with a highly productive economy."
Germany has expressed confidence that Spain will not need a EU bailout. Just two weeks ago Finance Minister Wolfgang Schaeuble dismissed media reports Spain was about to ask the euro zone bailout fund to purchase its bonds.
Spain's borrowing costs are painfully high, with the yield on its benchmark 10-year bond at close to 7% , and Rajoy is expected to make a formal request for coordinated action from the euro zone rescue funds and the ECB.