Thousands evacuated in Spain forest fires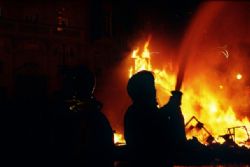 More than 4,000 people have been evacuated from their homes in Spain's Canary Islands because of forest fires that are difficult to control due to a heatwave and strong winds, authorities said on Sunday. The worst hit-areas are Tenerife, a popular tourist destination, and La Gomera, where temperatures have topped 40 degrees Celsius since Friday, restarting fires that had been put out during the week after destroying more than 3,000 hectares of land since August 4.
The fires have destroyed 200 hectares of land in Tenerife and 470 hectares in La Gomera since Friday and some roads have been closed on both islands. Other areas, including the northern province of Galicia, have been affected by fires in the past few days.
Spain has already suffered a number of forest fires in various regions this year. Around 50,000 hectares of land were destroyed in the first five months of 2012, making this year the worst since 2002, according to the Environment Ministry.