Spain banks borrow 10 pct more from ECB in July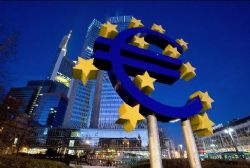 Spanish banks borrowed a record €402 billion from the ECB in July, leaving them as far as ever from returning to capital markets and heaping further pressure on Madrid as it tries to avert a full sovereign bailout.
The banks borrowed 10% more than the €365 billion they tapped in June, Tuesday's data from the Bank of Spain showed.
Spiralling debt costs and balance sheets ravaged by a domestic property bubble that collapsed in 2008 have shut most domestic banks out of the bond markets.
The banks' use of the ECB facility has increased sharply this year, rising from €161 billion in January, and the sector was propped up in July with the promise of a European rescue package - which it has yet to tap - worth up to €100 billion.
The pattern is similar if less acute in Italy - like Spain at the sharp end of the euro zone debt crisis - where banks held €283 billion in ECB funds in July compared with €281 billion in June, Bank of Italy data showed last week.
In Spain, only heavyweights with major operations abroad such as Santander and BBVA continue to have few problems raising funding from the market.
One likely factor in the July increase was the higher charges that some clearing houses were levying on the use of Spanish bonds - which many domestic banks have invested heavily in - as collateral for raising funds, one analyst said.
LCH.Clearnet, one of Europe's largest clearing houses, raised the cost of using Spanish debt as collateral in July following a series of ratings downgrades on the country's debt to the lower end of the investment grade spectrum.
Many investors fear that cleaning up the banking system as well as Spain's public accounts while recession rages may prove too difficult for the government, and expect the country to seek a full-blown bailout on top of the banking aid.