Spain extends jobless payments as austerity hits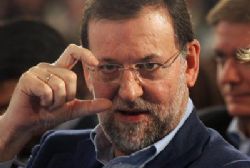 Spain's PM Mariano Rajoy said today how the government would prolong a program of benefit payments to the leong-term jobless, even as it pushes through multi-billion euro spending cuts to avoid resorting to a sovereign bailout.
Rajoy said his conservative government would continue to make the 6 payments of €400 a month to citizens whose eligibility for standard 2-year unemployment benefit has run out, a policy that had been due to end this week.
"We're going to extend it, we're going to try to make it work better than it has been working while it's been in place, because the fundamental objective is to get these people back into the workplace," Rajoy told reporters after he met with King Juan Carlos on his summer break.
He is expected to add more stringent conditions to the aid, which is currently contingent on people actively seeking work.
The cost of extending the plan was already included in the budget for the current fiscal year.
Unemployment in Spain is the highest in at least 30 years, with almost 25%r of the population out of work.
Nearly a quarter of a million people currently claim the €40 per month payment and almost three quarters of a million could be eligible for it by the end of this year as their normal unemployment benefits run out.
El Mundo newspaper recently reported the government had allocated €525 million in the 2012 budget to cover the cost of the program.
The collapse of a property boom 5 years ago has plunged the euro zone's 4th -largest economy into recession and the unfolding debt crisis has pushed its borrowing costs to the highest since the launch of the euro in 1999.
Rajoy, whose People's Party came to power in November 2011, has already sought a €100-billion bailout for the Spanish banking system, details of which are due to agreed in September. In mid-July, he also unveiled a new round of cuts intended to trim €65 billion from the public deficit by 2014 and help Spain avoid seeking the kind of full-scale bailout that Greece, Ireland and Portugal have taken in the last 2 years.
Spain must cut its public deficit of 8.9% of GDP last year to 6.3% in 2012, 4.5% in 2013 and 2.8% in 2014.
FURTHER AID
Rajoy reiterated that he would wait for the ECB to detail its plans before taking a decision on seeking further help from the EU to ease his country's high funding costs.
Rajoy was asked by a reporter whether he and the king had discussed the possibility of a second bailout, after the European aid for Spain's banks.
"Until we know what decision the ECB has taken on this matter, we aren't going to take one either," he said.
The yield on the benchmark 10-year Spanish government bond has traded above 7% in recent weeks, a level Rajoy himself has said is unsustainable.