Bankia to receive some rescue funds shortly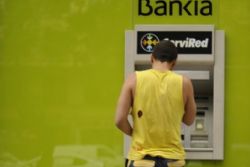 Spain's Bankia, a large lender taken over by the state in May, will soon receive part of a promised €19 billion capital injection via a European rescue, a spokeswoman for the economy ministry said on Thursday. "The funds will be received shortly," the spokeswoman said.
The government pledged €19 billion in aid for Bankia, which is heavily exposed to Spain's imploded property market, when it took it over. Just weeks later, in June, the country asked Europe for up to €100 billion in aid for all of its troubled banks.
The spokeswoman said the government continues to negotiate with Brussels regarding how it may be able to compensate small investors who will be forced to take losses in their investments in Bankia and other banks that may receive rescue funds.
Spain's government is scheduled on Aug. 24 to pass a series of laws to comply with conditions of the European rescue, including forming a "bad bank" that will take on toxic property assets from the banks, in order to sell them off.
As he tries to bring down Spain's high borrowing costs and avoid an international bailout like Greece, Portugal and Ireland, PM Mariano Rajoy has taken steps to clean up the country's banks and control spending by regional governments.
Before Spain has met all the conditions for aid for its banks, Europe has already made available €30 billion in emergency funds for the country's nationalised banks - Bankia, Catalunya Caixa, NovaGalicia and Banco de Valencia - but Spain has not formally requested specific aid up until now.
That means Spain can get urgent funds even while it works out the fine print with Brussels regarding the losses investors will have to take in rescued banks.
SAFE INVESTMENTS
Retail investors are reckoned to hold some €30 billion in subordinated debt and stock in Spain's small and medium-sized banks, of which only a portion, that in rescued banks, will be subject to losses.
Many unsophisticated investors in Spain were sold preference shares in banks, which were presented as safe deposit-type investments. Bankia has €3.1 billion outstanding in preference shares, NovaGalicia €960 million and Catalunya Caixa €480 million.
Spain is negotiating with Brussels to have the preference shares converted into high-interest bonds that would allow investors to recover their losses over a number of years.
"I don't rule out that rescue funds for the banks could arrive in various phases," said a banking source who asked not to be named, noting this process could start even before the preference share issue is resolved.
A spokeswoman for Bankia said the bank did not know what the timeline is for receiving aid and said the lender does not have liquidity issues at this time.
Among the decrees the government is set to pass next week is one banning the sale of preference shares to non-professional investors.
Bankia shares have more than doubled in price since mid-July - after a steep plunge in May and July - despite warnings from the Spanish central bank that shareholders stand to lose in the rescue.