Castellon airport to see action in September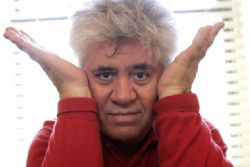 Multi award winning Spanish Film Director Pedro Almodovar has chosen Castellon Airport as the setting for his next film project, "Los amantes pasajeros" (Travelling Lovers).
The Writer/Director and his team are scheduled to spend a week on site at the airport early next month to record the film footage of an emergency landing of an Airbus A340 aeroplane, which features as central to the film's plot.
Just last year Almodóvar filmed an earlier sequence for the same film at Madrid Barajas airport, this time using an Airbus A330 to record scenes of the cast boarding and dismebarking the aircraft.
Although it is undeniably positive news to see theat the airport is at last being used for something constructive, it is not quite exactly what the majority of tax-paying Valencians had in mind.
Another question that none of the newspapers seem to have asked is "How did the Airbus arrive at the facility if the airport has not been granted a licence to operate ?". We can only assume that the A340 is simply a model.
Quite fittingly the film is to be a comedy.