Spain's ratio of social security contributors to claimants falls to record low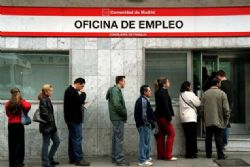 The worsening financial climate in Spain now means that the ratio of those contributing to Spain's social security system, to those claiming some kind of benefit has fallen to its lowest ever level.
Economists put the optimum ratio at 3.0 contributors to every one claimant. However, at a time when unemployment is increasing and the population is getting progressively older, the ratio for 2012 to date has now fallen to an average of 2.4 - dangerously close to the 2.0 ratio, considered by many to be unsustainable.